Centrum Kids Immune Fuel
Fuelled with nutrients to support children's healthy immune system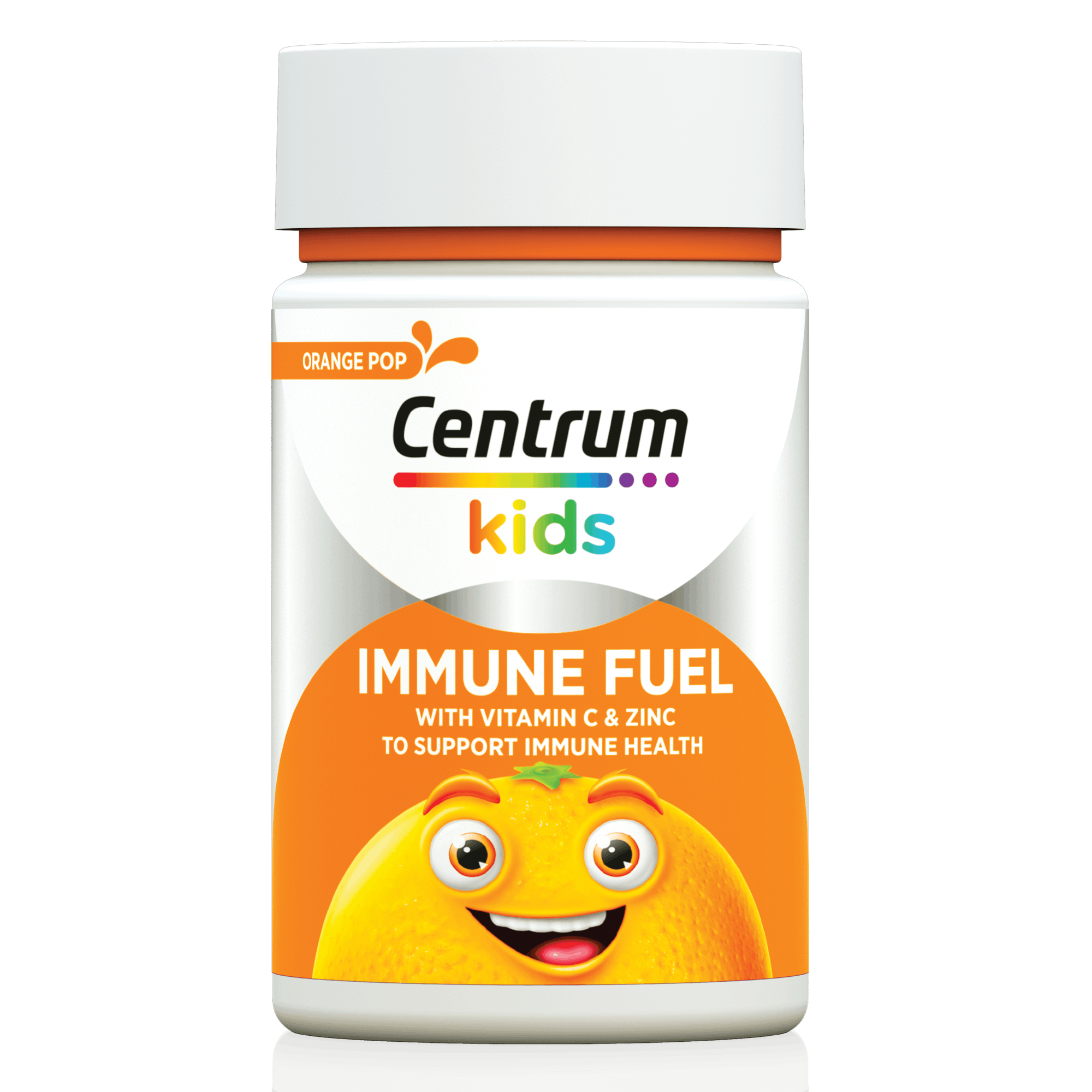 Centrum Kids Immune Fuel supports immune system health & function with a blend of vitamins C, D3, E, selenium and zinc as well as supporting general health and wellbeing.
50 chewable tablets
Delicious orange flavour
Key ingredients: Vitamin C, Vitamin E, Vitamin B3, Vitamin D3, Zinc, Selenium
99% sugar free
Vegan Friendly
Does not contain artificial colours, flavours and sweeteners
Immune System Health
Supports immune system health & function with vitamins C, D3, E, selenium & zinc.
General health and wellbeing
Supports general health and well being with selenium and vitamins C, D3 & E.
Malpighia glabra ext. dry conc. stand.
standardised to contain ascorbic acid (vitamin C)
Colecalciferol (vitamin D3)
d-alpha-tocopherylacid succinate (vitamin E)
Selenium (as selenomethionine)
Children 4-12 years only: Chew one tablet daily.
Not to be swallowed whole. Do not exceed recommended daily dose.

WARNING:
This product contains selenium which is toxic in high doses. A daily dose of 150 micrograms for adults of selenium from dietary supplements should not be exceeded. Vitamin and mineral supplements should not replace a balanced diet. If taking other supplements, read the label since supplements may contain the same ingredients. Children should take this product only under parents' supervision. In case of accidental overdose, contact your doctor or Poisons Information Centre immediately (Australia 13 11 26, New Zealand 0800 764 766). This product contains Carthamus tinctorius (safflower oil), do not use if pregnant or likely to become pregnant.
Keep out of reach of children.
Store below 25oC.
Q. Can I take this at the same time as other Centrum products?
A: If you are currently taking any other vitamin or mineral supplements, please speak to your healthcare professional before taking this product.
Q. Halal certified?
A. This product has not been Halal certified.
Q. Added sugar?
A. No
Q. Added gluten?
A. No
Q. Vegan friendly?
A. Yes
Compare any two products to see the amounts and daily values of vitamins and supplements in each.