Centrum Kids Strawberry
Helps fill nutritional gaps and provide essential nutrients children need every day.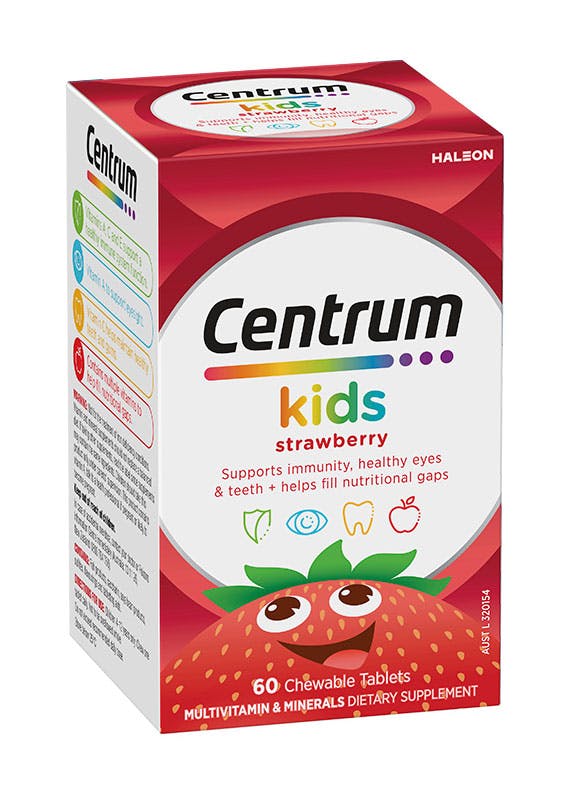 A balanced diet containing essential vitamins and minerals is important for the growth & development of your kids. Centrum Kids Strawberry is specially formulated to support your child's body with multiple key vitamins if dietary intake inadequate. Great tasting and easy to chew.
Carefully read all information provided with the product before use.
Fill Nutritional Gaps
It is sometimes hard to get children to eat a balanced diet, resulting in nutritional gaps. Centrum Kids Strawberry contains essential vitamins to help fill nutritional gaps in children who may be fussy eaters.

Healthy Eyes
Vitamin A to support good eyesight.

Immunity
Vitamins A, C and E to support a healthy immune function.

Healthy Teeth
Vitamin C to support healthy teeth and gums.

Retinol acetate (vitamin A)
Colecalciferol (vitamin D3)
Calcium pantothenate (vitamin B5)
Thiamine nitrate (vitamin B1)
Pyridoxine hydrochloride (vitamin B6)
Cyanocobalamin (vitamin B12)
dl-alpha-tocopheryl acetate (vitamin E)
Ascorbic acid (vitamin C)
Calcium (as calcium hydrogen phosphate)
Phosphorus (as calcium hydrogen phosphate)
Magnesium (as heavy magnesium oxide)
Iron (as ferrous fumarate)
Manganese (as manganese sulfate monohydrate )
#R.E. = Retinol Equivalents
Directions for Use
Children 3 years and over: Chew one tablet daily after food, or as directed by your health professional.
Not to be swallowed whole.Do not exceed recommended daily dose.
Warning:
Not for the treatment of iron deficiency conditions.
Vitamin and mineral supplements should not replace a balanced diet.
If taking other supplements, read the label since supplements may contain the same ingredient.
Contains fish products, saccharin, soya bean products, sulfites, flavourings and tabletting aids

Compare any two products to see the amounts and daily values of vitamins and supplements in each.