Centrum For Women 50+
Once-a-day multivitamin.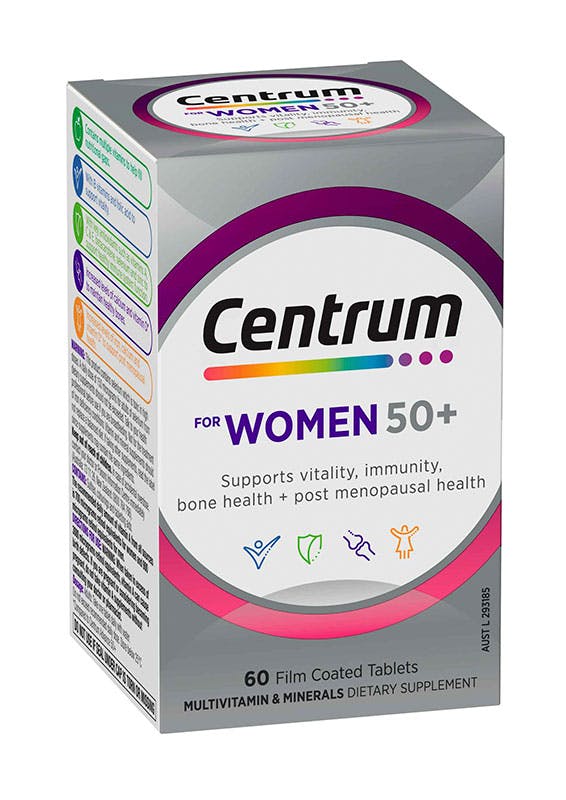 Centrum For Women 50+ supports bone health, post menopausal health, vitality and immunity. Centrum for Women 50+ contains increased levels* of vitamin D and calcium to support bone, and post menopausal health.

*Compared to Centrum Advance 50+
Carefully read all information provided with the product before use.
Vitality
Includes B vitamins and folic acid to support vitality.

Bone Health
With calcium, vitamin D, copper, zinc & manganese to maintain healthy bones.

Immunity
With antioxidants such as vitamins A & E, betacarotene, selenium and zinc to support immune function.

Post-Menopausal Health
With higher levels of iron, calcium and vitamin D* to support post menopausal health
*Compared to Centrum Advance 50+

Retinol acetate (vitamin A)
Colecalciferol (vitamin D3)
Phytomenadione (vitamin K1)
Calcium pantothenate (vitamin B5)
Thiamine nitrate (vitamin B1)
Pyridoxine hydrochloride (vitamin B6)
Cyanocobalamin (vitamin B12)
dl-alpha-tocopheryl acetate (vitamin E)
Ascorbic acid (vitamin C)
Calcium (294 mg as calcium carbonate and 6 mg as calcium hydrogen phosphate)
Magnesium (as magnesium oxide)
Iron (as ferrous fumarate)
Manganese (as manganese sulfate monohydrate)
Chromium (as chromic chloride hexahydrate)
Selenium (as sodium selenate)
Copper (as cupric sulfate)
Molybdenum (as sodium molybdate dihydrate)
Iodine (as potassium iodide)
#R.E. = Retinol Equivalents.
Directions for Use
Adults: Take one tablet daily with water. Do not exceed recommended daily dose.

Warning:
When taken in excess of 3,000 micrograms retinol equivalents, vitamin A can cause birth defects. If you are pregnant or considering becoming pregnant, do not take vitamin A supplements without consulting your doctor or pharmacist.The recommended daily amount of vitamin A from all sources is 700 micrograms retinol equivalents for women and 900 micrograms retinol equivalents for men.
Talk to your health professional before use if you are breastfeeding.
This product contains selenium which is toxic in high doses. A daily dose of 150 micrograms for adults of selenium from dietary supplements should not be exceeded.
Not for the treatment of iron deficiency conditions.
Vitamin and mineral supplements should not replace a balanced diet.
If taking other supplements, read the label since supplements may contain the same ingredients.
Contains sulfites, colourings and tabletting aids.

Compare any two products to see the amounts and daily values of vitamins and supplements in each.