Centrum Mind & Memory
Supports focus and improves memory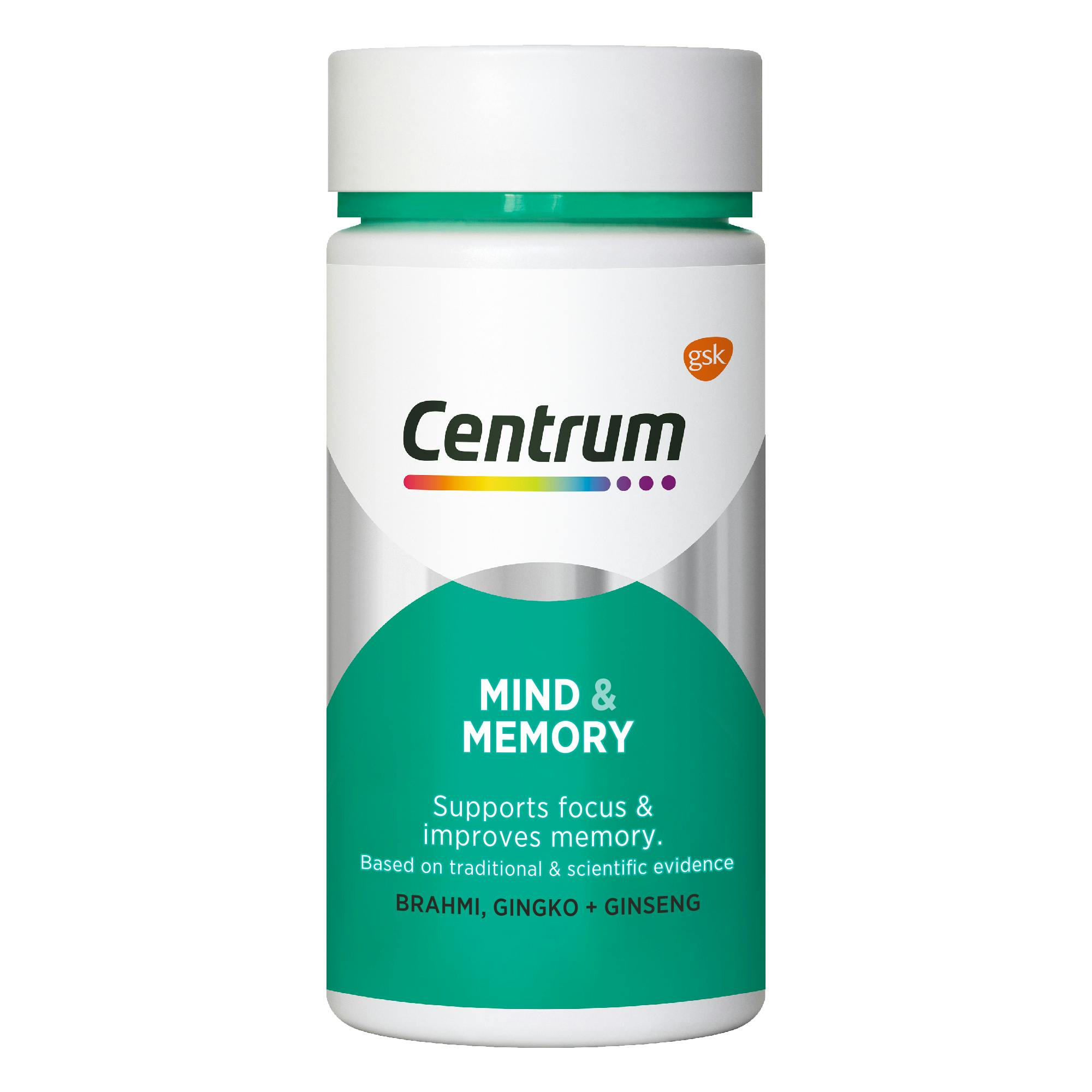 Give your brain support to stay on track. Centrum Mind & Memory combines brahmi, traditionally used in Ayurvedic Medicine, to help improve memory & cognition, as well as ginkgo & ginseng to support mental concentration, focus & clarity

50 & 100 Soft Capsules
Key Ingredients: Brahmi, Ginkgo + Ginseng
No added gluten

Memory and Cognition
Brahmi traditionally used in Ayurvedic Medicine to improve memory and cognition.

Focus and clarity
Ginkgo and Ginseng to support focus and clarity

Mental concentration
Ginkgo and Ginseng to support mental concentration

Each Centrum Mind & Memory capsule contains a tailored blend of:

Bacopa monnieri (brahmi) ext. dry conc.
Ginkgo biloba ext. dry conc
Panax ginseng ext. dry conc.
Suggested Use
Adults only: Take 1 capsule twice daily with meals, or as directed by a health professional. Do not exceed recommended daily dose.
WARNING:
Not recommended for pregnant or breastfeeding women.
Talk to your health professional before use if you have any pre-existing conditions or are on any medications.
Talk to a Ayurvedic practitioner/health professional if you are unsure if this medicine is right for you.
Before any surgery, stop use and tell your health professional you are taking this product. If taking other supplements, read the label since supplements may contain the same ingredients.

In case of accidental overdose, contact your doctor or your Poisons Information Centre immediately (Australia 13 11 26).
This medicine may not be right for you. Read the label before purchase. Follow the directions for use.
CONTAINS: Phenylalanine, soya bean products and sulfites
Keep out of reach of children.
Store below 25°C
Do not use if cap seal and inner foil liner are broken or missing.

Q. Can I take this at the same time as other Centrum products?
A: If you are currently taking any other vitamin or mineral supplements, please speak to your healthcare professional before taking this product.
Q. Halal certified?
A. This product has not been Halal certified.
Q. Added sugar?
A. No
Q. Added gluten?
A. No
Q. Vegan friendly?
A. No
Compare any two products to see the amounts and daily values of vitamins and supplements in each.