Centrum Kids Multi Fuel
Fuelled with nutrients to support children's healthy growth & development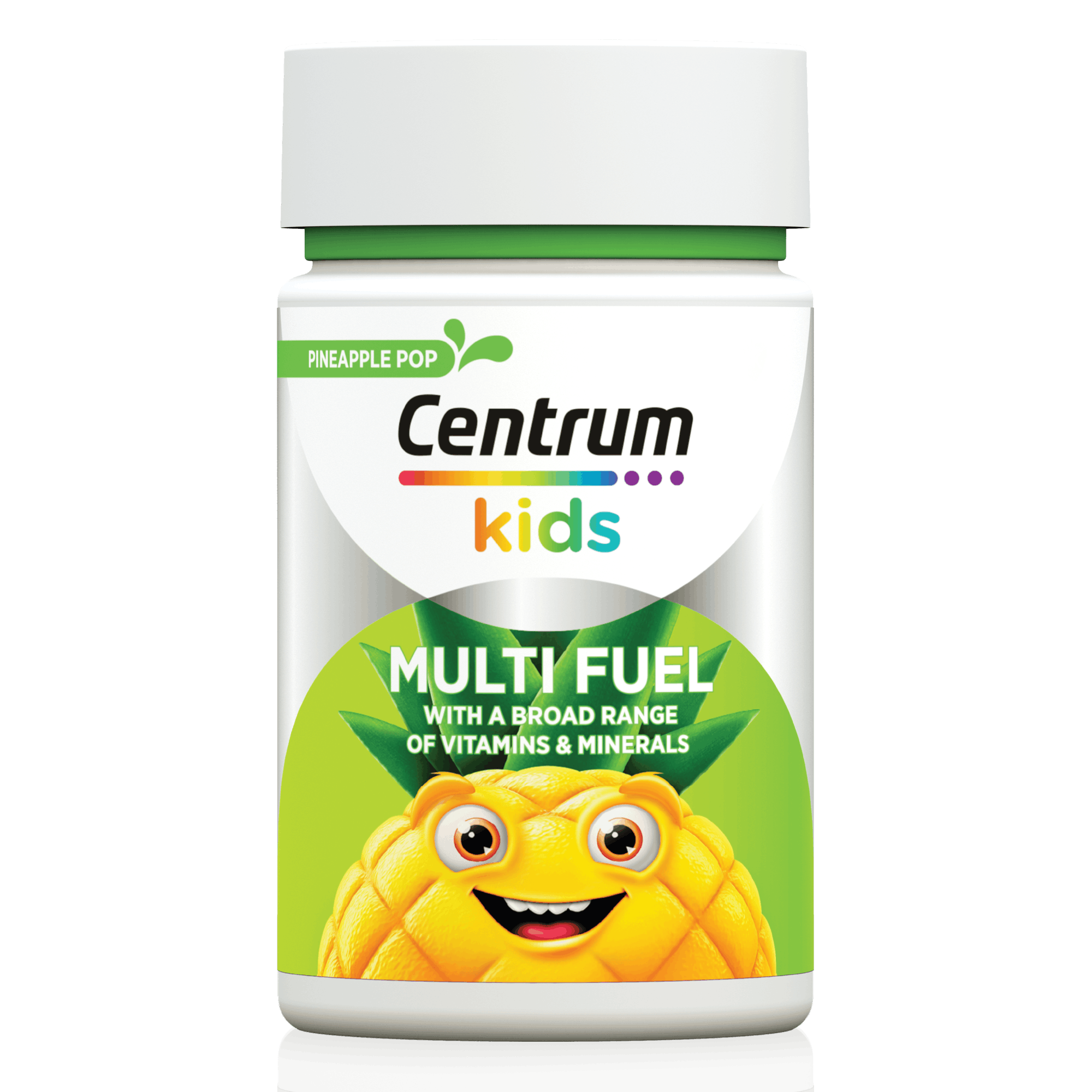 Centrum Kids Multi Fuel contains a broad range of vitamins and minerals to help fill nutritional gaps in fussy eaters. It combines calcium, magnesium and vitamin D3 to support healthy teeth and bone growth. With iron to support cognitive development and B vitamins to support energy production.
50 chewable tablets
Delicious pineapple flavour
Key ingredients: Vitamin A, B Vitamins, Folic Acid, Vitamin C, Vitamin D3, Calcium, Iron, Magnesium, Manganese, Zinc
99.9% sugar free
Does not contain artificial colours, flavours and sweeteners
Carefully read all information provided with the product before use.
Nutritional Gaps
Helps fill nutritional gaps with a broad range of vitamins and minerals
Cognitive Development
Supports cognitive development with iron
Healthy Teeth & Bones
Supports healthy teeth and bone growth with calcium, magnesium & vitamin D3.
Energy Production
Supports energy production with B vitamins
Retinol acetate (vitamin A)
Thiamine nitrate (vitamin B1)
Pyridoxine hydrochloride (vitamin B6)
Cyanocobalamin (vitamin B12)
Calcium ascorbate dihydrate (vitamin C)
Colecalciferol (vitamin D3)
Calcium (110.79 mg as calcium carbonate and 1.71 mg as calcium ascorbatedihydrate)
Iron (as iron (II) glycinate)
Magnesium (as magnesium phosphate pentahydrate)
Manganese (as manganese sulfate monohydrate)
Directions for Use
Children 4-8 years only: Chew two tablets daily. Children 9-11 years only: Chew three tablets daily. Not to be swallowed whole. Do not exceed recommended daily dose.

WARNING:
Not for the treatment of iron deficiency conditions. Vitamin and mineral supplements should not replace a balanced diet. If taking other supplements, read the label since supplements may contain the same ingredients. Children should take this product only under parents' supervision. In case of accidental overdose, contact your doctor or Poisons Information Centre immediately (Australia 13 11 26, New Zealand 0800 764 766). This product contains Carthamus tinctorius (safflower oil), do not use if pregnant or likely to become pregnant.
Keep out of reach of children.
Store below 25oC.
Compare any two products to see the amounts and daily values of vitamins and supplements in each.